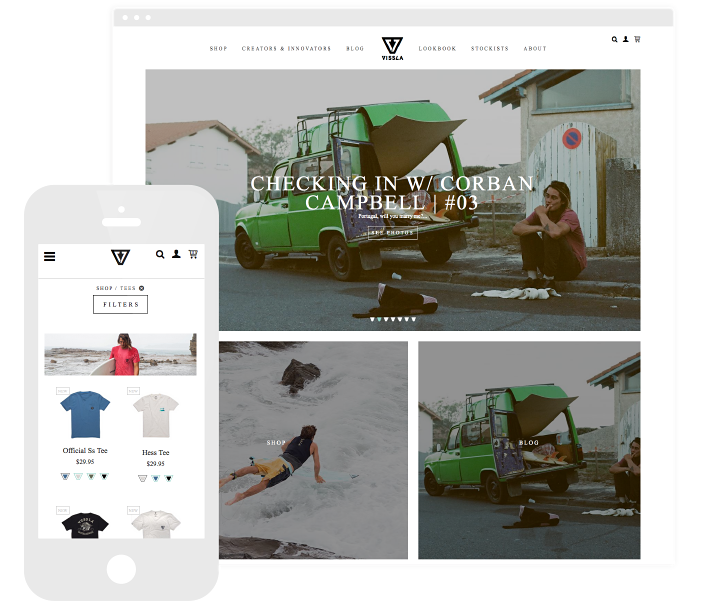 Challenge
As a brand new company, Vissla had ambitious goals. Not only did they set out to get up and running from concept to launch in a matter of months, but also sought to establish a strong global presence, build a dedicated customer following and reach its target revenue within the year.
Available in multiple regions, Vissla required a solution that could manage all their regions on one platform, and all the challenges that global companies faced. Products (and their related content) that were only available in certain regions needed a way to be singled out, as well as the various payment methods and currencies that existed within each country. Vissla's in-house ERP system also needed to be seamlessly integrated and work with the new platform.
Solution
The exact fit for their needs, SIDE-Commerce provided a quick setup and sophisticated integration to Vissla's ERP system. The platform featured multi-region options and a flexible e-commerce system, allowing them a custom solution that maximized their brand for customer engagement.
Collaborating extensively with our in-house design and development team, we delivered a functionality rich online store and content site. Utilizing SIDE-Commerce's simple management tools, Vissla's brand managers had direct control over their merchandising, promotional marketing efforts, multiple product filters and many other options while having an attractive UI showcasing elegant product photography and inspirational lifestyle content such as video, lookbooks and team pages.
Vissla.com launched on time and on budget, and received positive review for its concept, design and execution.
Screenshots of the Vissla website